Do Son - blue beach - trees - sky - fun people join the weekend vacation
About 22 km from the city center, Do Son beach is a resort with many beautiful beaches in northern Vietnam. Being like a dragon crawling to the East Sea with mountains, hills and sea interweaving, Do Son is an ideal tourist destination attracts many visitors especially in summer from the end of April to the end of October.
➤ The history saving - Bach Dang River War resonating
Passing over Hai Phong, must visit Do Son Beach
The highlight point of Do Son beach is the beauty of nature, which looks like a dragon creating winding and at every corner, a beach is formed. Many visitors come to Do Son beach to immerse in the cool water of the beach, relax with fun activities, interesting festivals, especially open with charming scenery.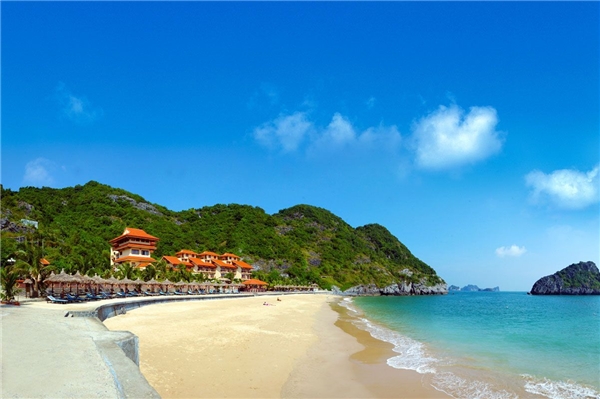 Closer photo at Do Son Beach
Do Son Beach is known as the land of the myths that carry majestic beauty and full of poetry. Do Son tourist area is divided into 3 zones, the beach in zone 2 is the most beautiful and vibrant, although the beach is not clear because that it's in the middle of two estuaries, it is beautiful, long gentle, smooth sand and quiet waves. Along the beach there are many restaurants and eateries serving fresh seafood, that is convenient for visitors to enjoy the specialties of Hai Phong coastal cuisine.
When visit Do Son Hai Phong, you cannot say goodbye
To travel to Do Son, visitors can come by train, bus or car. Renting motorcycles, bicycles services at there are very convenient to travel sightseeing, explore Do Son tour. Water sports such as umbrellas, windsurfing, canoeing, etc. are not to be missed while traveling at the beach. It is very happy to be back to nature, blending in the fresh air of the beach and feel the gentle pace of life.
Typical Crab Hotpot in Do Son
How about the special food in Do Son Hai Phong?
Visiting Do Son Hai Phong, you must try Hai Phong spicy bread, Hai Phong sausage snails, especially crab sauce hot pot, 'nem cua be' is also very delicious due to the sweet crab meat, featured delicious fatty crab. Hai Phong Do Son Beach is also attracted by many other tourist sites such as the sea area Do Son 1, the relic Hang Coc Temple, Bao Dai villas with architectural appearance in Do Son area 2, Ben Nghieng Relics, Cau Vong market area, ..
➤ The mysterious beauty of Trung Trang Cave in Hai Phong
"If there are two breads I would sell one to buy roses, because my soul also needs to nurture." Travel is the rose, energizing the soul within us. Do Son in Hai Phong brings beautiful scenery that combined the lovely people and nature will certainly make visitors immersed. Let give yourself the trip to see and to feel.